HSIC Lab.
RF Characterization System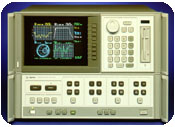 45 MHz to 50 GHz frequency (HP 8510C)
The fastest sweep mode available for any network analyzer
Line-Reflect-Match calibration for on-wafer and in-fixture applications
Internal "adapter removal" feature for measuring noninsertable devices with exceptional accuracy
Test Set(8517B), Modular DC Source(4142B), Bias System(11612B11,11612B-K21,...),RF Probe Station
DC, C-V and Low Frequency measurement System.
Semiconductor Parameter Analyzer(HP 4155A)
Pulse generator Expander(HP41501A)
Function Generator(Agilent 33250A)
Graphics Plotter(HP7550A)
Photo-Detector Characterization System.
DSP Lock-in Amplifier
Short Pulse Fiber Laser
Laser Diode Driver
Optical Chopper