[SEM-attached Elphy system]
SEM-attached Elphy system has the following features
A digital control unit with integrated real-time Forth microprocessor
Thermocontrolled high speed and precision analog amplifier unit
A set of ultra fast 16bit D/A converters with deglitching electronics(up to 2.66MHz point frequency)
8 bit A/D converters for video signal from SEM for digital mask recognition and alignment(multi-level lithography)
analog on-line writing field corrections in offset, scaling and rotation for performing multi-level lithography.
[SEM]
Model: JEOL 5800LV Acceleration voltage: ~30kV
[Electron Beam Evaporator]
Ebeam evaporator makes the deposition of many new and unusual materials possible because electron beam guns offer high evaporation rates, freedom from contamination, precise control, excellent economy, and high thermal efficiency. The form of the evaporant is not restricted, and feeding, filling and changing from one evaporant to another are easy. Pure elements, compounds, alloys and mutually insoluble materials can be processed by electron beam evaporation.
Model: Temescal BJD-1800 system
Source able to be deposit: n Cr, Ti, Pt, Au, Ni, NiCr, Ge, AuGe, Al
Maximum power 6kW
[RIE and PECVD]
In RIE chamber, reactive ions, which accelerated toward unmasked regins of samples and etch them, are created by striking a plasma in an appropriate gas, such as oxygen or a chlorine containing compound. RIE offers excellent control of etch rates and uniformity because gas concentrations and substrate temperature can be tightly controlled.
In Chemical Vapor Deposition processing (CVD), gases containing constituent atoms of the deposited films are mixed together and passed over a heated substrate,where they deposit dielectric films. SiO2 and Si3N4 films are deposited by PECVD or OECVD.
Both RIE and PECVD is made by OXFORD in Britain. The model name is Plasma Lab 80. Thus both are controlled by one control unit.
[CBE and MBE]
Our MBE and CBE systems are from VG Semicon in Britain. CBE system is the same model of that of MBE system (V80H MBE System) except the part of source. Related contents are introduced to here.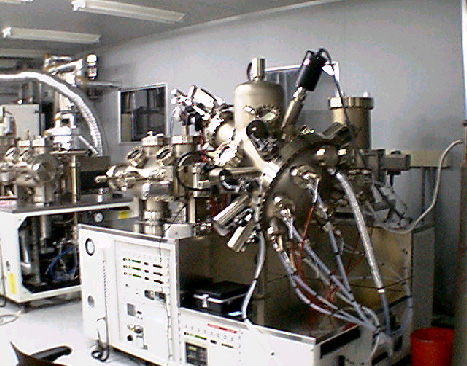 [Mask Aligner and UV Lithography System]
While sub-micron patterning is conducted by using e-beam lithography system, usual device and MMIC lithograhpy is conducted by using this system.
During mask aligning, to instect the back side of substrate, an infrared ray and a CCD camera are used while inspecting the front side of substrate with optical microscope.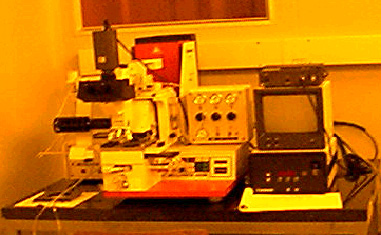 [Spin Coater]
All PR/ER coating processes are conducted with this programmably (spin speed, acceleration, time duration, etc.) controlled spin coater.
Except them, wet stations, Alpha-Step 500 Surface Profiler and PN4300PC ECV Profiler are euiped. And N2, Liquid N2, vaccum and DI water lines are comletely equiped for convenience.